The Book Report:
The
Sam Masich Internal Arts Library Project
is now up online! Things are starting to take shape with the help and contribution of many students,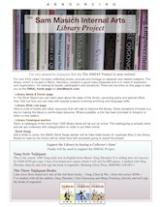 colleagues and friends. Thank you to those who have made book, video and other offerings over the years. I believe with the enthusiasm and support of our
taijiquan
community, we can make this library a world class resource.
I want to especially thank Rachel Scherer and Brandon Shaw for their excellent work in archiving the library thus far!
Gradually we will expand the number of books available on the
SamStore
. These will include new, used and duplicate books received. Sam has collected a few titles over the years expressly for the purpose of library fund-raising.
Help Wanted:
• We need a VHS to DVD archivist in
Vancouver B.C
to convert martial arts footage Sam collected through the 80s and 90s.
Please email
if you have skills that could be of value and would like to donate some time to the library project.
• We need a Chinese language helper in Berlin for archiving the dozens of Chinese titles Sam has collected throughout the years.
Donor deal
• per $100 donated: One
instructional DVD
of your choice.
• per $300 donated: Two complimentary
instructional DVDs
of your choice plus a
SamSongs
CD of your choice.

• 
per $500 donated: One full set of the
Sam Masich Video Classics Collection
.
• per $1000 donated: One full set
Sam Masich Video Classics Collection
plus all
SamSongs
CDs in print.
The library can also use donations of
time
, especially as it gains more online presence, for things like categorizing, researching potential materials and posting information. Library needs are posted at
library news
. If you'd like to discuss how you can help with the
Sam Masich Internal Arts Library Project
please don't hesitate to
contact
.