*archive for a completed event*
18th Annual Sam Masich
Vancouver Push Hands Camps
2009
Camp 1 • July 24-27
'The Square'
Camp 2 • Jul. 31-Aug. 3
'The Diagonal'
We return to the study of traditional push-hands curriculum.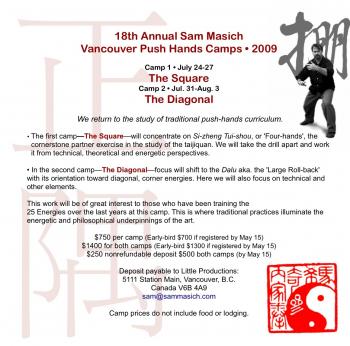 Download PDF
The first camp—
The Square
—will concentrate on Si-zheng Tui-shou, or 'Four-hands', the cornerstone partner exercise in the study of the taijiquan. We will take the drill apart and work it from technical, theoretical and energetic perspectives.
• In the second camp—
The Diagonal
—focus will shift to the Dalu aka. the 'Large Roll-back' with its orientation toward diagonal, corner energies. Here we will also focus on technical and other elements.
This work will be of great interest to those who have been training the
25 Energies over the last years at this camp. This is where traditional practices illuminate the energetic and philosophical underpinnings of the art.
$750 per camp (Early-bird $700 if registered by May 15)
$1400 for both camps (Early-bird $1300 if registered by May 15)
$250 nonrefundable deposit $500 both camps (by May 15)
Deposit payable to Little Productions:
5111 Station Main, Vancouver, B.C.
Canada V6B 4A9
sam@sammasich.com
Camp prices do not include food or lodging.