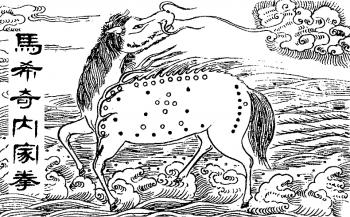 Welcome to the new, paperless,
Strange Horse News.
With this down-loadable newsletter you can keep up-to-date with Sam's latest 'Little Productions' and find videos, articles, book reviews, special-offers, music, schedule info and more. Feel free to print-out and share items from Strange Horse with your friends.
---
The latest Strange Horse:

---
---

Strange Horse News:

Spring-Summer 2010 (3-1)
---
Why 'Stange Horse?'
'Maxiqi' 馬希奇 is the Chinese name used by Sam Masich. The name was confered on Sam during the
1985 World Wushu Invitationals
in Xi'an, China, when Sam was a member of the Canadian National Wushu Team. 'Maxiqi' (pronounced Ma-h'shee-chee) is 'Masich' sinofied and literally translates to 'Strange Horse' ('Ma' means 'horse' and 'Xiqi' means rare or eccentric).
---
Strange Horse archives:

---

Strange Horse News:

Spring-Summer 2009 (2-1)
Hyper-linked edition!

Feature Teacher:

Karin Collins

Music News: Announcing: 'Lucky Time'

Book review

: Qigong Fever (David A. Palmer)

Strange Horse: Nov. 2008 Update;
Euro-tour

Strange Horse: Oct. 2008 Update;
Ontario/Quebec

Strange Horse: Spring 2008 Update



Strange Horse News:

Spring-Summer 2008 (1-3)
First hyper-linked edition!

Feature Teacher: Javier Arnanz

Video News:

Sam Masich Video Classics Collection

on special until May 2008

Music News: Cow! Review; CDs on special

Book review

: Douglas Wile's

books

T'ai-chi Touchstones: Yang Family




Secret Transmissions

&

Lost T'ai-chi Classics from the Late

Ch'ing Dynasty



---

Strange Horse News:

Spring-Summer 2007 (1-2)
---

Strange Horse News:
Fall-Winter 2006 (1-1)
Feature Teacher:

Jan Parker

Video News: Special offer;

Tai Chi in Performance

.
Music News

: Michael Friedman's

latest album

Diamond

Space;

collaboration with Sam
Book review for

Barbara Davis'

book

The Taijiquan Classics

---

Strange Horse News Spring 2003
The Yang Intensive

FFM in Germany

'Tai Chi People': the Movie

Black Sash (TV show) and Bagua

The Vitality Project

---

Strange Horse News Spring 2001

Strange Horse News Spring 2000


Sam's neck

Beynd Boundaries PAWMA


---

HiWire Archives
The HiWire is the welcoming comment on the homepage of SamMasich.com