---
---
Even if you come across this CD in the middle of a big pile, it will draw you immediately to picking it up. Better said, the cute cows on the cover will lure you to do that! "Moodonna & Child" and "Holy Cow" on the back are paintings by
ManWoman
. "Cow!" is named after one of the songs, where the cow is a methaphor for freedom. And Aldous Orwell Project got its name from the authors Aldous Huxley ("Brave New World") and George Orwell ("1984"). This is music for the advanced listeners! Acoustic folkrock featuring outspoken political lyrics, mixed with worldfusion jazz.
Sam Masich from Vancouver, Canada is the singer-songwriter of this Aldous Orwell Project, regular readers of this page might know him already from FFM and his collaboration with Michael Friedman. He is an independent musician and filmmaker, who already wrote more than 400 songs, of which about a hundred are played & recorded. He's the ideal co-writer, always wanting to write for other artists. Sam is also one half of a duo with Christine Duncan. As he says: "Songwriting led me to performing and also to producing". He returned to music after years of focusing on his successful "other" career of teaching martial arts.
The album "Cow!" was recorded in San Miguel, Mexico with Mexican, Cuban, Canadian and American jazz musicians. Percussionist/drummer Bobby Kapp for example, played with Dexter Gordon. Sam himself has a slightly hoarse, throaty voice, that I like a lot. His emphatic delivery of the lyrics is just impressive and urges to listen, he also plays various guitars, together with Ken Basman. All tracks got a completely different sound. From just an acoustic guitar, along percussion & piano, a waltz with violin, an uptempo piece ending on something Cuban, the cynical version of a marching band, folk-noire with piano, electric guitar in sturdy folkrock to world-jazz and folk-jazz with the wonderful backing vocals of Glenda Rae, ending with a hidden track of improvised jazz.
The lyrics are about political and social subjects. Very outspoken. Everybody & everything is present: Richard Nixon, JFK, the CIA, God and the Devil, Baghdad, the American Dream, World War 3, Hitler, Stalin, Ghandi plus a few fourletter words. And the album is dedicated to Noam Chomsky and Michael Moore. But it all makes sense and never ends up in ranting, although this CD confirms what I already noticed during my travels in Canada: many Canadians really dislike America, in the meantime they love to tackle "American" subjects and they're probably genuinely concerned. Words in "Pity The American" are -indeed- "Pity the American. Pity all the world." It's hard to just pull a line from the songs, a few I think are great: "There were Indians walking right where I'm walking. Now it's all condos and nightclubs and me" from "The Nuclear Waltz", written according to Sam Masich "on the eve of the US led invasion and occupation of Iraq" and from satirical "The Great Dictator": "Fun loving folk who are a little afraid of losing their house, losing their safety net / Happy to trade a son or two for freedom." I mentioned already that clever methaphor in "Cow" (our freedom Cow): "They say, Hey mister, get that cow out of the way. We're coming through". "Black Bat Wings" is just as good: "I put on my darkest, greyest cloak and slip into my black bat wings / I slide out by a side door to avoid the state police", a while later: "And right below me I see D.C. I'm above a house, I'm above a white house."
Like I said, "Cow!" is for the advanced listeners, who will put the disc in heavy rotation, muuuh...
Written by Johanna J. Bodde, April 2007.
---
A meeting with
ManWoman.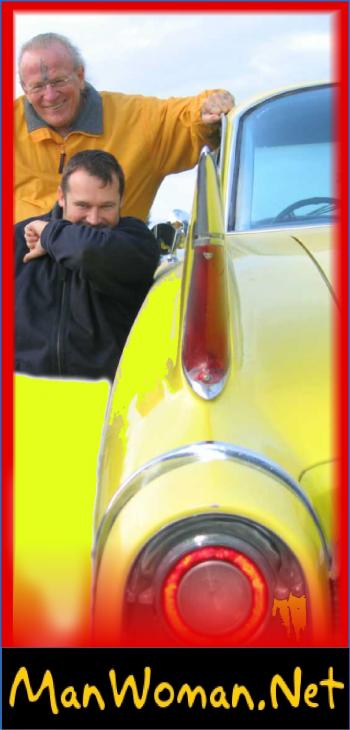 (click the pic)
ManWoman
is the artist who created the images on the cover and back of
Cow!
Often called 'The Godfather of Canadian Pop-art', Manny's work goes back some 40 years. His paintings, books and memorabilia are collected around the world. Recently I had a chance to catch up with ManWoman at his home in Cranbrook B.C. when I was teaching a Tai Chi workshop in Kimberley.
For me it was a chance to dialogue with a truly progressive artist and mentor. Over Chinese food, we discussed the importance and pitfalls of living an artistic life and what it means to maintain integrity in one's work. Once described as "a spiritual Andy Warhol", for ManWoman life is the canvas. -Sam
---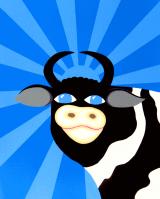 Holy Cow

by ManWoman
---
Aldous Orwell?
In two contrasting 20th century visions of the future Aldous Huxley and George Orwell each predicted a stuporous society, either bred, medicated and distracted into a conformist paradise, or compliant under the boot of a dictatorial and propagandist authoritarian regime. It seems not only that both fictions are coming true but that also they are interdependent. While the 'First World', lives increasingly in Huxley's Brave New World, it does so on the backs of billions of people living out Orwells's 1984 nightmare where 'Big Brother' keeps a tight grip on the reigns of power.

In both predicted worlds, the force and volume of one voice has drowned out all others and therefore ideals of equanimity, community and benevolence are lost in a converse rhetoric where war is described as peace and propaganda is defined as truth. Freedom here is an imposed quality foisted on the individual by powerful, coercive forces. The
Aldous Orwell Project
is a vehicle for giving voice to this increasingly real scenario.
Cow!
is about freedom on personal and collective levels. It is about the inevitable consequences of unchecked power-addiction and the choices we can make to break the addiction cycle through empathy and goodwill. Cow! is about
being
rather than having and about creative expression rather than slavish imitation to imposed ideals. Cow! is about courage.
---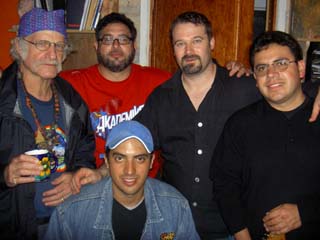 CowBoys

(l-r top) Bobby Kapp, Gabriel Hernandez, Aldous Orwell, Antonio Lozoya, (below) Victor Valasco
---

About Cow! Songs
Cow! unfolds in an arc. It begins with a proclamation of another possibility, continues through the behaviours and consequences of power addiction and finally journeys to the place where every addict must eventually come if he or she hopes to manage their disorder.
1. The News
Proclamation of a renewed freedom to choose empathy over self interest. Caution of tyranny's presence.

2. They Say
Uncloaking of tyranny's isolation, paranoia and murderousness. Affirmation of the way of love, trust and open living.

3. Nuclear Waltz
Awakening awareness of inevitable consequences of political tyranny and need to effect change through personal participation rather reliance on 'larger' forces.

4. Cow
Personal dignity and respect for community symbolized by the unmoving cow. Protest by passive resistance even in the face of tyranny's seeming victory. A statement regarding the power of unity in simple common values.

5. Black Bat Wings
Despairing self sacrifice. The avenging martyr effects protest by invoking the dark forces of victim phantasms to directly attack fascistic powers. The violent, suicidal activism inevitably forged in the flames of relentless, callous oppression.

6. Pity the American
Compassion for members of the causal society, many the unwitting agents of power interests who ultimately join the victims as tyranny turns inward on itself. The ordinary citizen, not realizing his or her complicity is confused to be the focus of such animosity.

7. The Great Dictator
Unmasking of the ordinary citizen's fear and apathy as one of the root causes of fascism. The relationship between the gullible populace and political tyranny. Admission of the power disorder as collective.

8. Ballad of the Bad
Confession of individual cruelty at the heart of social dysfunction. Admission of the power disorder as personal.

9. Spiders
Putting oneself in the place of 'other' to sense both perspective and condition. An invitation to empathy, the first step in breaking impersonal and objectifying tendencies of addiction.

10. My Best Prayer
Empathy's invitation to goodwill and joyful well wishing, the antithesis of traits of control, domination and isolation at the root of fascistic tyranny.


---
---
"Care of the cow brings good fortune." - Yijing (The Book of Changes)
---
"War is peace. Freedom is slavery. Ignorance is strength."
- George Orwell
---
Then, in unison and on a slow, heavy rhythm, "We-want-the whip," shouted a group at the end of the line. "We–want–the whip."
Others at once took up the cry, and the phrase was repeated, parrot-fashion, again and again, with an ever-growing volume of sound, until, by the seventh or eighth reiteration, no other word was being spoken. "We–want–the whip. We–want–the whip! We–want …"
And all of a sudden they had what they wanted.
- Aldous Huxley - Brave New World
---
"Military justice is to justice what military music is to music."
- Groucho Marx
---
"The problem with the French is that they don't have a word for

entrepreneur

."
- George W. Bush