In this intensive we will be focusing on the
5 Section Taijiquan
curriculum in its entirety with the purpose of developing high level practitioners. Instruction will include: the five 5 Section Taijiquan forms, Jue-shou partner practices and Core Principles.
(see more below)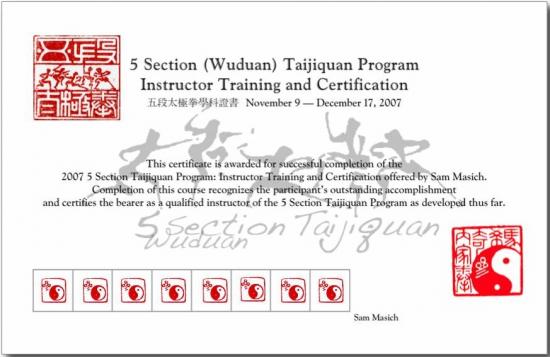 It is expected that participants will advance greatly in all practical and theoretical aspects of this material. Upon satisfactory completion, each class member will receive a participant's certificate and skill evaluation assessment.
Eligibility:
This course is designed for serious students of Taijiquan who wish to complete the entire 5 Section syllabus as taught by Sam Masich.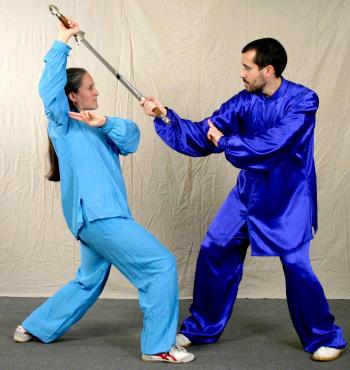 To be eligible for the course, students must have studied approximately 50% of the material prior to the start date of the class. Ideally this will have been with Sam or his advanced students but work with other teachers will be taken into consideration as well. Students must be willing to work hard, indoors and outdoors for long hours, commit to the schedule of training for the four weeks and meet financial commitments. This is a serious undertaking which will likely disrupt other personal and professional involvements temporarily.
---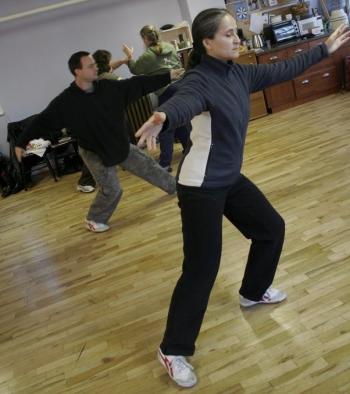 Framework:
The course will run from
November 20 to December 14, 2009
in Madrid, Spain. Classes will take place four days per week, running Fridays through Mondays. (Some subjects may be taught in seminar format allowing participation of outside students) The class will be suitable for English and Spanish speakers.
Madrid:
This extraordinary city offers endless opportunities for exploration. Along with amazing museums, palaces, restaurants and shopping, Madrid is host to a vibrant taijiquan community.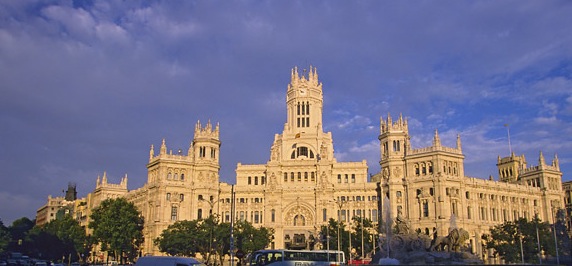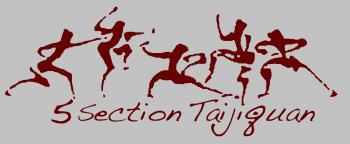 ---
Curriculum:
---
5 Section Taijiquan Full Curriculum Intensive:
(Four four-day weeks)
Focuses on mastery of the technical elements of the 5 Section Taijiquan Program. Includes certificate and evaluation.
•
5 Section Taijiquan
五段太極拳
(solo form Yang style)
Solo bare-hand taiji form. Derived from Yang style (Beginner)
•
5 Section Taiji San-shou
五段太極散手
(2 person form)
Two person bare-hand taiji sparring form (Intermediate)
•
5 Section Taijijian
五段太極劍
(solo sword form)
Solo taiji sword form. (Beginner/Intermediate)
•
5 Section Taiji
jian
(Duilian)
五段太極對練劍
(2 person sword form)
Two person taiji sword 'sparring' form (Intermediate/Advanced)
•
5 Section Chen Taijiquan
五段陳式太極拳
(solo form Chen style)
Solo barehand taiji form. Derived from Chen style
(Beginner/Intermediate)
•
5 Section Taiji Qigong & Core Principles
五段太極氣功
A 'modular' curriculum of basic principles and energetics.
•
5 Section Taiji Jue-shou
五段太極覺手
(Sensing-hands)
Multi-functional partner drills which support form work.
---