Welcome to the Film & Other Art section of SamMasich.com. Sam always has a number of film, video, theatre, painting and writing projects on the go. Like this section of the website, many of these are currently in development. To follow are some sneak preview descriptions of some of Sam's other art.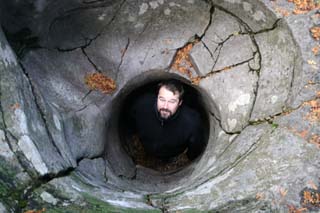 Film
Sam is currently working on several film and video projects.

'Tai Chi People'
Feature Documentary

In the beginning of March 2002 I embarked on 23,000 km road trip that started in Vancouver, went down the west coast as far as Los Angeles, across to Texas and down to Mexico City. I continued east as far as New York, went north into Canada and back across the continent home. The purpose of the trip was to visit and film Taijiquan practitioners of all types for a documentary tentatively entitled 'Tai Chi People'.

My traveling companions, Jan Parker and Ali Bacon, helped with filming, driving and managing the sometimes complex scheduling. In total we shot 120 hours worth of interviews, demos, events and road footage.

Some of the interviewees included Dr. Yang Jwing Ming, William C.C. Chen, Benjamin Lo, Pat Rice, Dr. John Painter, Bruce Kumar Frantzis, Professor Dan Lee, Elaine Waters, Doria Cook-Nelson and Craig T. Nelson, Nick Gracenin, Michael Gilman, Dave Harris, Andy Dale, Mario Napoli, Wen Mei Yu, Dr. Jay Dunbar and many, many others.

Interviewing on everything from technical, historical, philosophical, health and social issues related to Tai Chi, I gained some amazing insights into our little community. Ideally, this film will attract audiences beyond the Tai Chi world, and treat independent film lovers to a glimpse of a subculture that is rich, diverse, dynamic and life affirming. My hope is that people will be able to see down, deep below the tip of the iceberg and look into the magic of our art.

Now to edit! Its been difficult to set aside the time to complete the project but I've made some progress. Stay tuned for a separate 'Tai Chi People' page which will include updates, video clips and exerpts from interviews.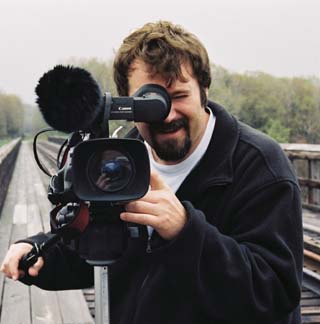 'Peace Camp'
Short Film

The Peace Camp in Vancouver B.C. Canada was a protest to the invasion of Iraq in 2002. The Camp, comprised of about 20 full time residents and thousands of visitors, was a tent village which sat directly across from the U.S. Consulate for about 2 and a half months.

Dedicated to protesting the U.S. led attack on Iraq and its ongoing policy of invasions, economic sanctions and orchestrated regime changes in resource laden nations, the Peace Camp was the longest running publicly staged war protest in Canada and reflected the sentiments of a great many people, including the Vancouver City Council, which joined hundreds of other municipalities (including New York City), in officially opposing the Middle East invasion.

I filmed a great deal of the activity and am working on a short film on the subject.

Acting Intensives
Actors have studied with Sam via two programs.

Grace on Rage on Stage is a contemporary stage combat program, which focuses on various elements of performed conflict and violence. I first began developing this approach while employed as combat instructor for the National Voice Intensive at Simon Fraser University. Grace on Rage on Stage approaches elements of performed violence from the perspective of interpersonal physicality. It is a refocused distillation of Internal Martial Arts principles which may be fused to great benefit with any other acting approach.

Employing 'Red Vignettes', exercises designed to bring greater power, control and safety to scenes which require extreme and chaotic emotion, Grace on Rage on Stage goes well beyond standard approaches to fight choreography. Focusing on how to bring a character organically from the printed page to the boiling point.

Love & Hate, Sex & Violence is an intensive actor's training program I co-developed with director/acting coach Bernadette Jones who has been a director and teacher in Toronto, Vancouver, Montreal and Los Angeles since 1979. Bernadette has been associated with Michael Shurtleff since 1984 and is Canada's leading authority on the Shurtleff approach. Bernadette and I fused material from Grace on Rage on Stage with her own unique work to create Love and Hate, Sex and Violence.

Following the idea that sex and violence are both 'red' on the emotional spectrum we developed 'Love & Hate' to allow actors the opportunity to let scenes of performed intimacy and/or violence to co-mingle freely. In this program Bernadette and I firmly rejected approaches to the craft which rely on dredging up painful personal psychological material from the actor's experience, instead providing an emotionally safe toolkit of procedural techniques.

These programs, Grace on Rage on Stage and Love and Hate, Sex and Violence have seen professional and serious amateur participants make great and sudden strides in their acting. Courses are generally 2-5 days in length.

New Paintings
New paintings by Sam.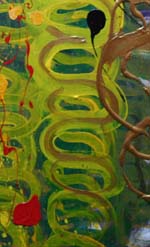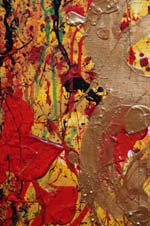 'The Perfected Warrior'


During the last year I've made and effort to return to some of my early roots in painting. I am currently working on a series of abstract pieces around the theme of

Zhen Wu

, the warrior deity of

Wudangshan

that the historical

Zhang Sanfeng

is likely to have worshipped as a part of his Daoist practice. -S