Welcome to Sam's Web site

Español Deutsch Française



Honored

I'm in a grateful mood—toward my teachers, my students and the art of taijiquan.

At the request of my sifu Master Liang Shouyu, I went to Vancouver to help out as an MC at The Extraordinary Martial Artists of the World Lunar New Year Gala. The quick weekend journey to my former home city was to provide me with many honors.

The International Wushu Sanshoudao Association awarded me an 8th degree black belt which was presented by Master Liang himself.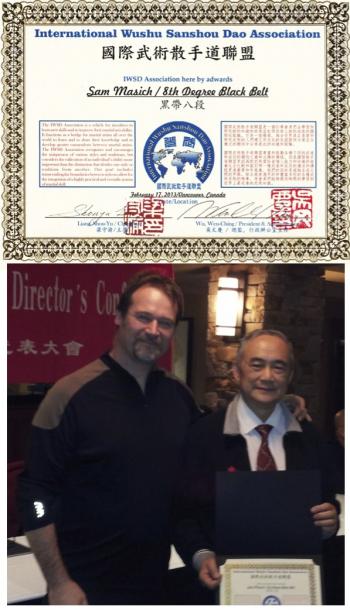 Master Liang awards Sam 8th duan,
the 2nd highest level given by the IWSD.



It was wonderful to have my dear friend Pat Rice present me a 'Remarkable Achievements in 'Tai Chi Chuan' award as one of the 100 Extraordinary Chinese Martial Artists in the world today. Pat has been one of my greatest supporters over the last 25 years.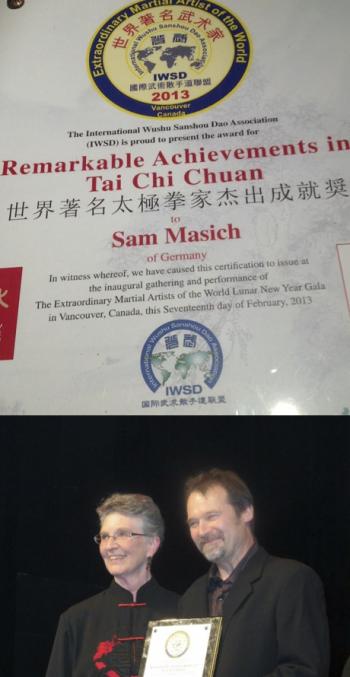 Pat Rice presents Sam with the
'Remarkable Achievements in Tai Chi Chuan' award.


I'm so very grateful for the support of my many wonderful students, as exemplified by Matthew Case, who helped me demonstrate '13 Power Taiji Sabre' on a stage shared with some of the great martial arts luminaries of this era. It is a privilege to work with so many fine people from so many parts of the world.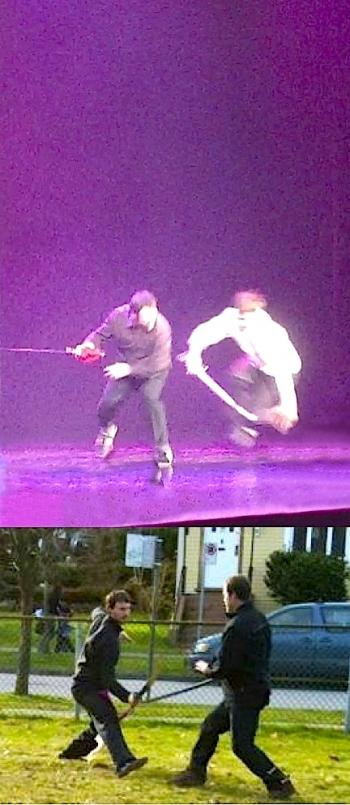 Matt and Sam in some rock'em—sock'em sabre!



You'd think that would be enough... On the same weekend I'd gone to visit my grandmaster, Raymond Y. M. Chung, with my first teacher Brien Gallagher. Master Chung was born in 1913 and comports himself with great presence and clarity. I'd brought along my yin-yang ring—the one that Brien gave me after certifying my full Yang-style curriculum. It is the same ring as the one Brien had gotten after Master Chung certified him.

I was hoping Master Chung would have his, which is exactly the same, and that we could have a photo together with our three rings. Master Chung went one better. He brought another ring—also with a taiji symbol—and he placed it on my finger saying, 'You Master now Sam. You always remember me. I always remember you.'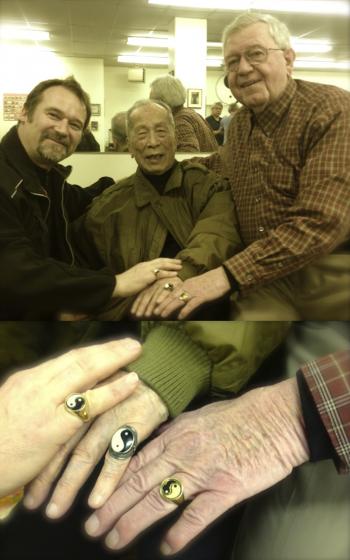 Master Chung, aged 100, acknowledges Sam as taijiquan 'master'.


What a weekend of honors. To this embarrassment of riches I say 'thank you, xie xie, danke shön and gracias'.

--Sam

(HiWire archives)

CHECK SAM'S CALENDAR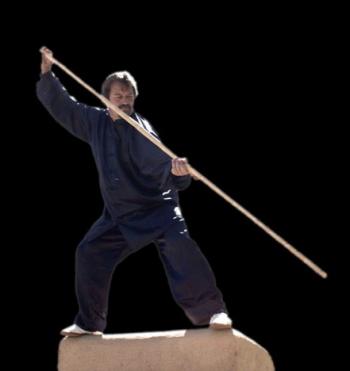 What's Hot Now
INTERNAL ARTS
---
---
2013: Private & Small group study
Updated!
---
7º Campamento de 4 dias
de Empuje de Manos
Madrid, España Aug. 10-13

Los 88: Taiji Sanshou estilo Yang
The '88': Yang Taijiquan Sanshou 88 Form

---
TWO BIG EVENTS in North America 2013!
1. May 25 - June 2
Vancouver, BC, Canada
Eight days of taiji immersion!
☯ LONG FORM SUPER INTENSIVE
Yang-style Taijiquan 108 楊式太極拳(一百八)
& '37 Essential Forms' 三十七式

...
2. Oct. 12-20
Sunderland, W. MASS, USA
Eight days of taiji Spear!
☯ SPEAR CAMP

---
Checkout:

NEW!
• 5 Section Taijiquan 五段太極拳
• Sam Masich Internal Arts 馬希奇内家拳
---
5 Section Taiji demo clips
from around the world

Checkout:

NEW!
Sam Masich (music)